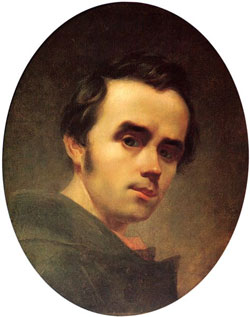 Celebrate the 204th anniversary of the birth of Ukraine's national poet TARAS SHEVCHENKO
on Friday 16 March at 6:30 pm at the
Embassy of Ukraine, 3350 M St. NW, Washington, DC 20007
Featured speaker: Leonid Rudnytzky (professor emeritus, La Salle University)
«Шляхетна простота й тиха велич: думки про істину поезії Тараса Шевченка»
Concert of Ukrainian music: pianist Serhii Morozov
Sponsored by
Embassy of Ukraine,
Ukrainian Academy of Arts and Sciences in the U.S. (UVAN),
Shevchenko Scientific Society (NTSh) Washington DC chapter,
Ukrainian Engineers Society of America (Washington DC chapter).
_____________________________
Sunday, March 25, 2018 at 3 pm AT THE UKRAINIAN INSTITUTE OF AMERICA
2 East 79th Street (at 5th Avenue), New York City
MUSIC OF UKRAINIAN DIASPORA COMPOSERS:
Osyp Zalesky; Marian Kouzan; Wadym Kipa; Victor Baley; Serhiy Bortkiewicz; Ihor Sonevytsky.
Vira Slywotzky, soprano; Pavel Gintov, piano;
Dancers from the SYZOKRYLI UKRAINIAN DANCE ENSEMBLE, Orlando Pagan, Artistic Director
Sponsored by MATI (Music at the Institute) and The Ukrainian Academy of Arts & Sciences in the U.S., Inc.